We review 17 key moments from the short but successful life of Millie Bobby Brown, the young woman who came to our screens through 'Stranger Things' and is going to stay forever.
We met her thanks to 'Stranger Things' , a series that is now in its fourth season. Now, Millie Bobby Brown has become one of the most influential celebrities in Hollywood thanks to this Netflix series . The young woman has films such as ' The Thing About Jellyfish 'or' Godzilla vs. Kong ' , and we want to take advantage of her 17th birthday today to review the 17 moments for which we adore her. Congratulations!
---
1 Millie Bobby Holmes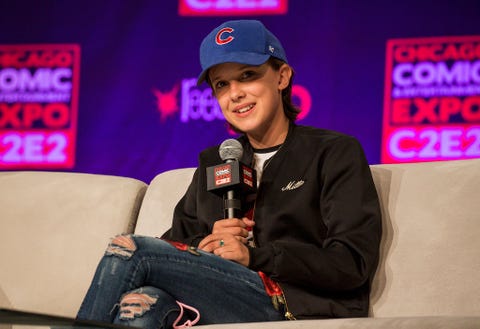 The actress has been chosen to star in the films that will adapt ' The Adventures of Enola Holmes ', the funny comics of Sherlock Holmes' teenage sister that became a literary success in 2006.
---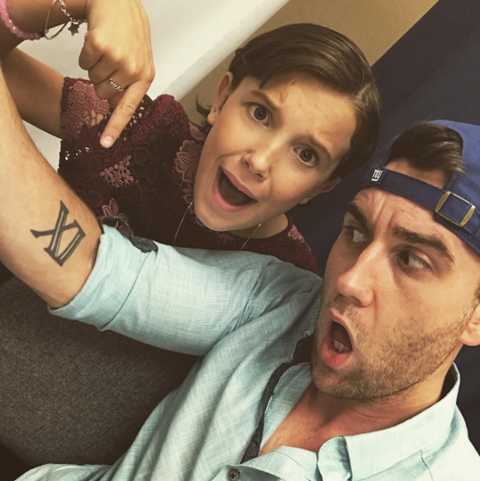 2 Eleven Longbottom
Fan events usually have exceptional guests, but what is not seen very often is the back, when those stars meet and proclaim their admiration for each other. It did happen at the 2016 'Dallas Fan Days' in which Matthew Lewis , the actor who plays the always underrated Neville Longbottom in the Harry Potter saga , posted this photo of his meeting with Millie Bobby Brown going backstage adding: " A lot of people He asks me what my tattoo means. Now you know ".
Nor does it disgust the song and, just before hitting it with the series, it was allowed to make some cover than another on YouTube, like this one of John Lennon's 'Imagine' .
---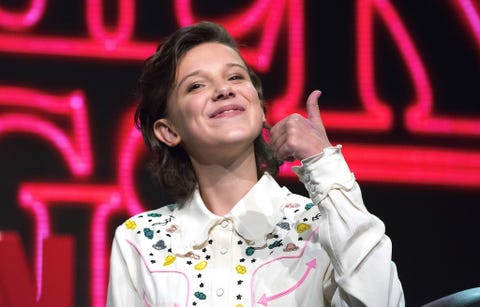 4 Record since 2016
When we decided to highlight the most wanted stars on IMDb during 2016 , it was when we began to understand how far our protagonist had penetrated. After Margot Robbie (who premiered 'Suicide Squad' and 'Tarzan' that year) and Emilia Clarke (on everyone's lips thanks to 'Game of Thrones'), Millie Bobby Brown appeared . His third position imposes even more when you see that he has left behind stars like Tom Hardy , Gal Gadot , Alicia Vikander or Leonardo DiCaprio .
---
5 It is malaguena
Millie Bobby Brown was born in Marbella, reason more than enough to deserve this gallery. At four his parents returned to the United Kingdom and at eight they crossed the pond to move to Orlando (Florida) where he became interested in acting. But let's get back to what's important, he's from Marbella, like Rafaela Aparicio , Mariola Fuentes or Pepon Nieto . BOOOOM.
---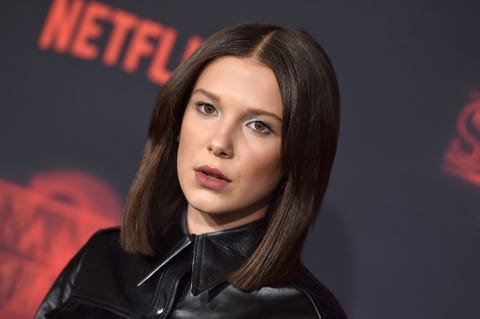 6 Mini Negan
" There's a show I desperately want to be on, I've tried everything to appear on 'The Walking Dead.' I don't care if he's like a zombie! And I know that Negan is around… "
he acknowledged at the Rhode Island Comic Con in 2016. After this confession, we were able to see some videos in which he imitated that character.
---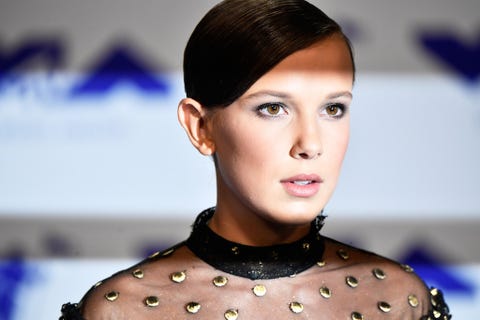 7 Eleven: Queen of the Monsters
After the successful ' Godzilla ' (Gareth Edwards, 2014) and ' Kong: Skull Island ' (Jordan Vogt-Roberts, 2017), fans were able to see her in ' Godzilla: King of the Monsters ' (Michael Dougherty, 2019).
---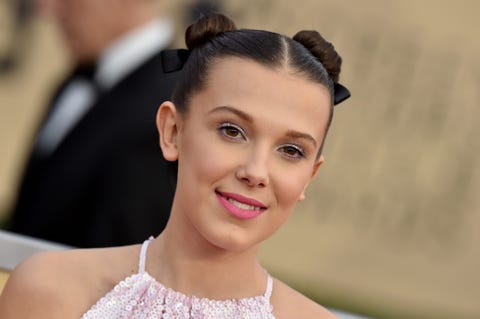 8 Wants to be leia
The future of ' Star Wars ' is uncertain in terms of the focus of its projects, but it seems that when it comes to numbers it is more than assured. Knowing this, the request made by Millie at Rhode Island Comic Con when asked what roles she would like to play in the future is not crazy: " Princess Leia. If they do more Star Wars, which I think they are doing, I would love a role like that . "
---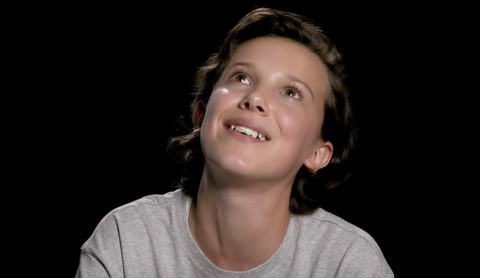 9 It's one more Wannabe
To celebrate the 21 years of the 'Wannabe' of the Spice Girls , in W they decided to gather many of the interpreters of the moment for a beautiful tribute. Nicole Kidman , James Franco , Milo Ventimiglia , Keri Russell , Claire Foy , Riz Ahmed or Alexander Skarsgård did not miss the opportunity to pay tribute to that 90s anthem, and neither did our Millie.
---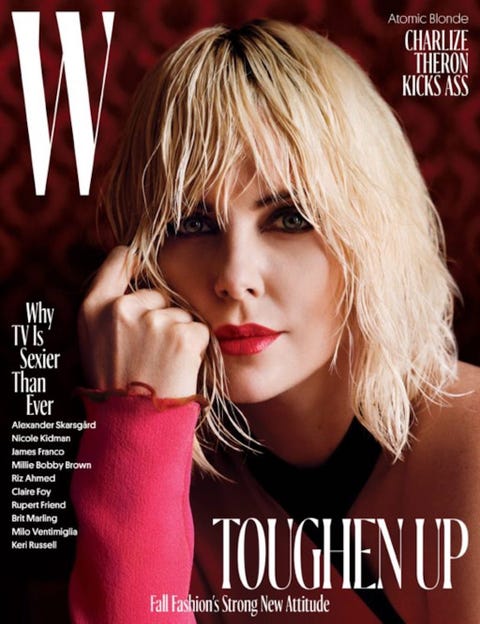 10 It gets out of hand
Another symptom of its success are the controversies that have arisen around it, especially those created by third parties. This was the case when W magazine decided to include Millie Bobby Brown in an article entitled ' Why is television sexier than ever? '. At 13, isn't that a tad early?
---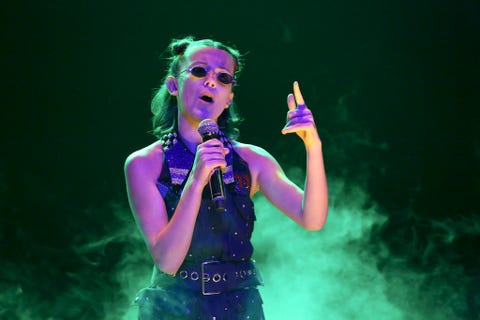 11 Rap fashion
Millie can rap too, as she proved on the Jimmy Fallon show by reviewing the first season of ' Stranger Things '. Be careful , it included tracks from the second stage of the series with phrases like: " Will's now at home coughin 'slugs in the sink. What happened to me? I'm in the Upside Down ."
---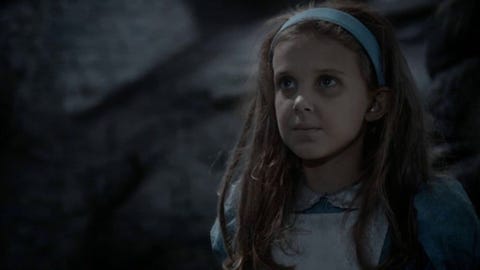 12 Once upon a time Alicia
She debuted at just nine years old on the ABC series ' Once Upon a Time in Wonderland ', in which she played the young version of Alicia . Any connection with Carroll's work is always a positive point in a career. Well, it depends on which version …
---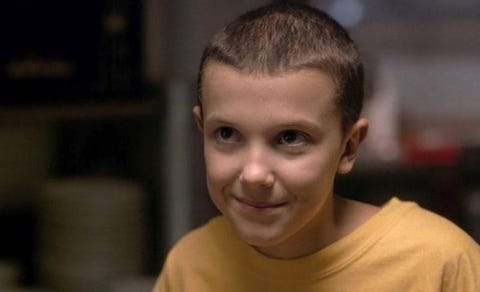 13 Shaved to the Imperator
In the first season of ' Stranger Things ' we met the young actress with a shaved head. This, according to the actress, was something quite harsh but, when she saw Charlize Theron in ' Mad Max: Fury Road ' as the glorious and savage Furious Imperator , she came to the razor with renewed strength.
---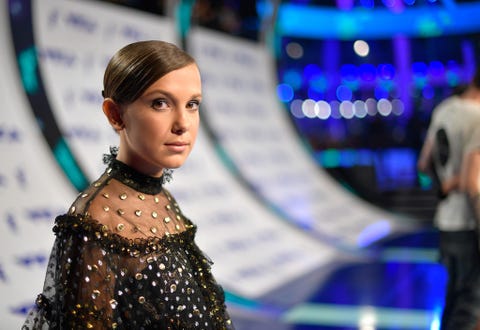 14 Queen of networks
At the age of 17, the actress has some 31.9 million followers on Instagram and more than 2 million on Twitter. The key to his success is a constant interaction, sharing funny photos and experiences of his day to day and responding whenever he can to his acolytes.
---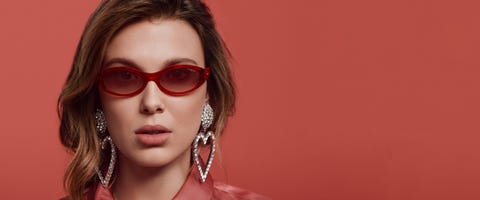 15 Eyewear designer
The actress has launched into the world of fashion with a very everyday accessory: glasses, all thanks to a new collaboration with Vogue Eyewear,
---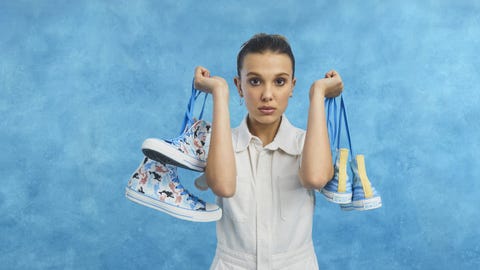 16 And from Converse
The Millie Bobby Brown x Converse collection will be called Millie By You and will consist of six pairs of customizable sneakers . The actress wanted to pay tribute to one of the things she likes the most: whales and the seabed.
---
17 Sherlock Holmes's sister
One of her latest jobs has been on the Netflix movie 'Enola Holmes', where she played the famous detective's little sister alongside Henry Cavill, Helena Bonham Carter, and Sam Claflin. Among his upcoming releases, 'Godzilla VS. Kong '; 'The Girls I've Been', based on the novel by Tess Sharpe; and 'The Thing About Jellyfish', directed by Wanuri Kahiu.
---
Wrap up
Have you all enjoyed the MILLIE BOBBY BROWN mentioned in this article!! On the other hand, your suggestions are always welcomed. Feel free and drop the message and also comment on the comment section on which scene is your favorite. Don't hesitate to Contact us
Have a good day! See you all soon.
Watch more amazing
VERY PARTICULAR ABOUT KIRSTEN DUNST(Opens in a new browser tab)
VERY PARTICULAR OF MICHELLE PFEIFFER(Opens in a new browser tab)
WOMAN is a worldwide project giving voice to 2000 women(Opens in a new browser tab)
THE BEST SERIES OF 2021 ON NETFLIX, HBO, AND MORE: RANKING AND RELEASE SCHEDULE(Opens in a new browser tab)
THE BEST SERIES OF 2021 ON NETFLIX, HBO, AND MORE: RANKING AND RELEASE SCHEDULE(Opens in a new browser tab)
MONSTER HUNTER movie review and film summary(Opens in a new browser tab)