For playful players of large-scale action and fantasy shows.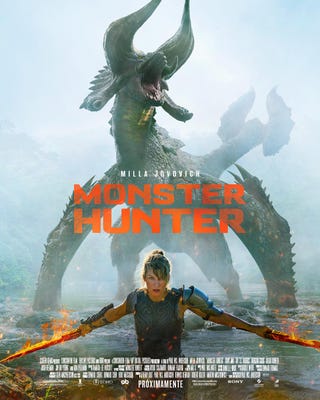 Direction: Paul WS Anderson Cast: Milla Jovovich, Tony Jaa, Ron Perlman, Diego Boneta, Tip 'TI' Harris Original title: Monster Hunter Country: USA, Germany, Japan, China Year: 2020 Release date: 26- 3-2021 Genre: Drama Script: Paul WS Anderson (Videogame: Kaname Fujioka, Capcom) Photography: Glen MacPherson Synopsis: Behind our world, there is another: a world of dangerous and powerful monsters that reign in their domain with deadly ferocity. When an unexpected sandstorm transports Lieutenant Artemis (Milla Jovovich) and her unit (TI Harris, Meagan Good, Diego Boneta) to a new world, soldiers are surprised to discover that this unknown and hostile environment is home to huge and terrifying monsters that are immune to its firepower. In their desperate battle for survival, the unit encounters a mysterious hunter (Tony Jaa), whose unique abilities allow him to stand up to dangerous creatures. As Artemis and the hunter gain confidence, she discovers that he is part of a team led by the Admiral (Ron Perlman). Facing a danger so great that it could threaten to destroy his world,
☆☆☆☆☆ 4/5
The best: The fun fight between tanks and titanic creatures.
The worst: That the sense of fun has already been lost.
Surely we will never find in that window of the largest screen ever thought that cinema is a more monstrously beautiful act of love like the one that Paul WS Anderson has dedicated to his wife, Milla Jovovich, in Monster Hunter. Not Josef von Sternberg with Marlene Dietrich, Renny Harlin with Geena Davis or John Derek with Bo Derek. The letter of surrendered passion and fascination that the director dedicates to the actress here, in this film that makes XXL size (creatures, weapons, egos, jokes …) a declaration of principles, goes beyond their collaboration since always, a crush and complicity that has defeated any zombie apocalypse ( Resident Evil ) or any steampunk trip to the adventure drama ( The Three Musketeers ).Monster Hunter is the Jovovich as an iconic magazine foldout, as a fetish poster that sums up, recycles, and sublimates all the heroines of the popular, fandom and film imaginary. Leader of a savage group that looks more like the hooligan version of an anime than the original video game, this Captain Artemis is the true mistress of a Wagnerian variant of Dune sampled to a thrash metal beat by gigantic Japanese Saturday night cartoon monsters. the morning.
In times of Zoom movies, small interiors, and huge claims, of, in short, the denial of cinema as a bizarre spectacle, Monster Hunter arrives, with that stubborn series B armor with means so expensive to Anderson and Jovovich, to be the most effective Pandemic Artie Boredom Vaccine . What better remedy to put an end to pseudo-Cassavetes and the sleeping pill of the new indie than take pirates down through desert dunes like in a comic by Druillard or Enrique Breccia; than swords of a size that would cause the erection of the longed-for Paul Verhoeven from Starship Troopers (The Space Brigades)mutilating beasts of a hypervitaminated kaiju eiga … What a torrent of imagination, humor, and debauchery. Then a director in love giving his beloved a Taj Mahal of shameless action.
Have you all enjoyed the Monster Hunter Post!! Friends, your suggestions are always welcomed. Feel free and drop the message and also comment on the comment section, don't hesitate to Contact us
Have a good day! See you all soon.
It may interest you
'THOR LOVE AND THUNDER': RELEASE DATE, SYNOPSIS, TRAILER AND EVERYTHING YOU NEED TO KNOW
With God, we have run into a trailer of the last episodes of season 5 of 'Lucifer'