The second episode of Season 7 of 'Koffee With Karan' is all you could want and more! Janhvi Kapoor and Sara Ali Khan, a much episode's guests, splashed so much tea on the coffee couch that we're not sure how we'll ever recover. From openly loving on Vijay Deverakonda to gushing about their "cheap" travels, here are a few amazing moments that had us wishing we were a part of this wild combo!
If you've seen the most recent episode, we're sure you have the following questions.
1: Who is the infamous ex?
Who is this ex-boyfriend that Sara and Janhvi have in common? We've heard of the Pahariya brothers, Veer and Shikhar, and we're betting on them!
2: Which Kedarnath hotel are they talking to?
Given that we've found everything that's lacking from this lovely property, we need to figure out which hotel Sara and Janhvi were staying at when the latter froze at 3 a.m. Please give us the info!
3: Are there any images of them climbing Bhairavnath Mandir?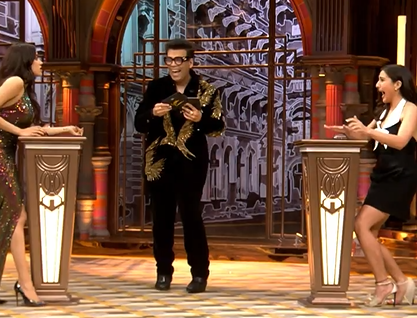 In case you missed it, they were trapped on the top of a mountain. Is there any photographic evidence of this? asking for a friend.
4: How does Sara maintain her money and yet had millions?
This is a million-dollar question, and we can thank both Saif Ali Khan and Amrita Singh for such a humble upbringing. Sara appears to be the type of person who would reject a fancy meal with friends just because the cost per plate is too high! She even referred to Ranbir and Alia's marriage as "saste mein kaam niptana."
5: More information about 'Bholi Si Surat' is needed.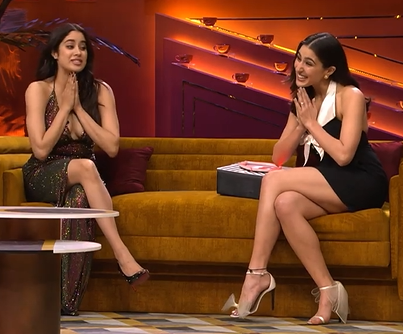 What did Janhvi mean when she said she owned a scandalous finsta called 'Bholi Si Surat'? We're still confused. Also, anyone who finds the page she has for her ex-boyfriends will receive a coffee hamper from us.
6: How many times has Sara left the building in her car trunk?
We're amazed by Sara's "Mission Abort" plan because the media are always two steps ahead of Bollywood celebs. Do you suppose she's done it more than once and we're simply not aware of it?
7: Can we confirm Rashmika Mandanna and Vijay Deverakonda?
If you watched the new episode, you'll notice that the conversation is particularly "cheesy," but what's the scoop on this rumor? Is there any confirmation on this couple? Inform us, RN.
8: Does anyone else think Sara's Instagram is cringe-inducing?
It's good to see Sara can make fun of herself, and what better way to do so than by pointing out her cringe-worthy Instagram presence? Can we say we had similar feelings?
9: Janhvi's squeezes, where are they?
We'd like to know who her mains have been as she claimed that she normally distracts herself from heartbreak with a side squeeze! They must be in alphabetical order.
10: Did they simply accept that marriages in Bollywood are for show?
Since both Janhvi and Sara expressed how much they still respect Ranveer, it was hinted multiple times that marriage is "simply naam ke liye." Okay, okay, okay?
11: Could we please have one more episode with them?
We can't get enough of the excitement Janhvi and Sara brought to the evening! They're just the right amount of naughty, honest, and wild, and they're exactly what the couch needed!
What were your thoughts on the new episode? Please let us know in the comments!
Credit: Instagram/karanjohar