#The City of Joy Kolkata
As soon as the weather turns a little. And the rain leaves secretly with its clouds, similarly, the smell of flowers in the atmosphere brings the message of the coming festivals.
It is the carrier of the message which says that the festival season is back in the country. Festivals welcome the arrival of autumn, fill everyone's life with enthusiasm. The arrival of white flowers on Parijat trees, the dissolving of fragrance in the air is a sign of the beginning of Durga Puja. And there is no better place in the whole country than Kolkata to see Durga Puja. Let us take you on this occasion, Kolkata.
Complete Guide to explore the amazing place in just 24 hours
Kumartuli – Kolkata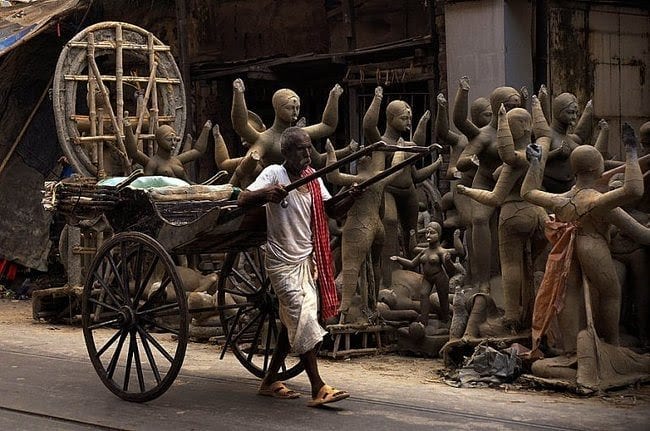 This time we will start our journey from a place where the idols of Maa Durga are coming. I am talking about Kumartuli. The part of the old city where potters from all over Bengal have settled a settlement.
Throughout the year, sculptors can be seen pouring life into the idol from the soil, but from a few months before Durga Puja, the place becomes very alive. Some small and some big idols are being made in the streets here.
An entire street is decorated with shops selling items of mother's adornment. From here all the people take beautiful idols of Durga Maa for their respective pandals. You can spend a whole day in this area. In this locality of potters, people prepare beautiful idols of Maa Durga, night and day.
To sculpt beautiful idols of Durga, where idols are made from clay. The base of the statue is prepared by tying jute and straw on a wooden structure, on which the idol is prepared by mixing paddy shells with clay. . The decoration of the statue is done with great effort, in which various types of clothes and ornaments are used.
Durga Puja Pandal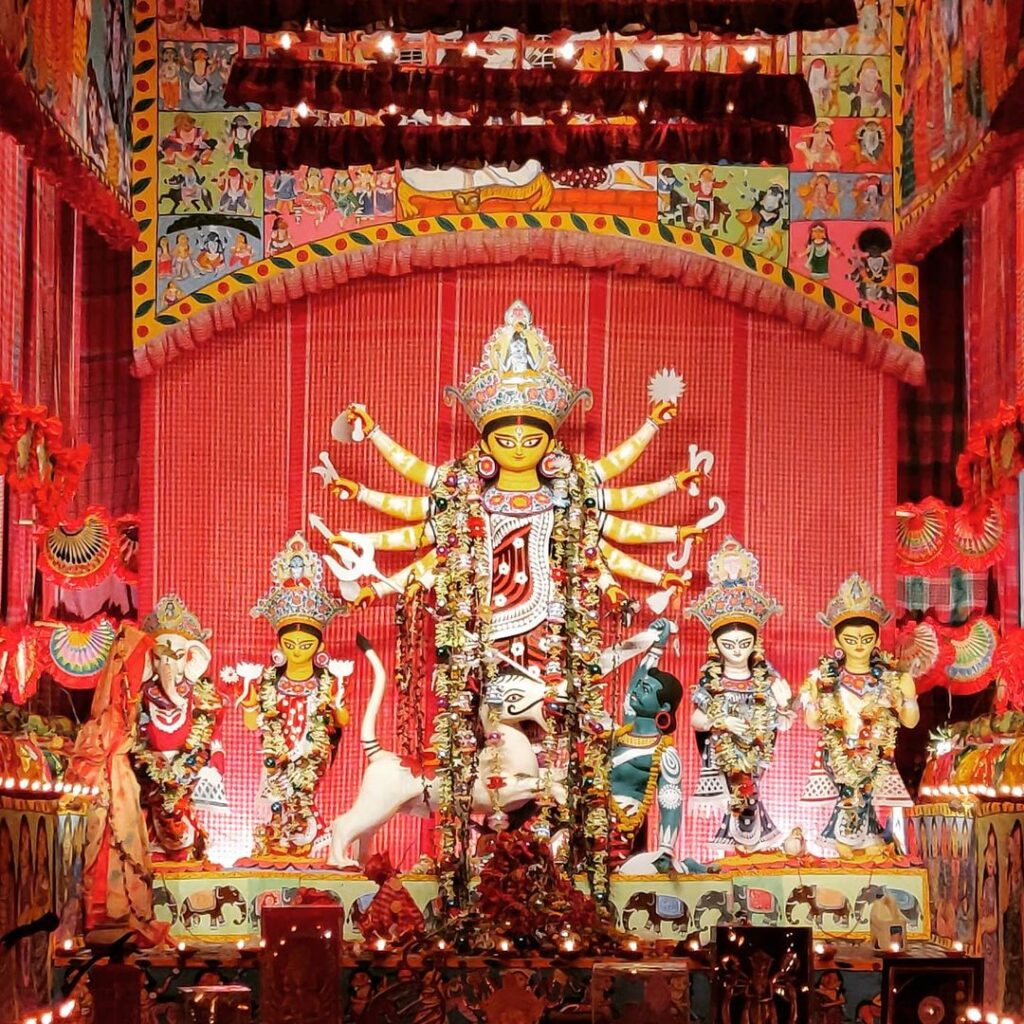 Durga Puja pandals are celebrated all over Kolkata. The city is decorated like a bride for the entire nine days of worship. There is a huge craze of theme pandals these days. In which people perform their arts with full enthusiasm. Some of the pandals are very famous in Kolkata, of which the main ones are.
Santosh Mitra Square, who has been making pandals since last 80 years. College Square, North Kolkata's Baghbazar, Hindustan Park, South Kolkata's Samaj Sebi Sangha, Ballygunge Cultural Association, Despariya Park, Kumartuli Park, Dum Dum Park, Tarun Sangha, Sikandar Bagan Sardin Durga Puja, Mohammed Ali Park Durga Puja, Singhai Park Sarbojanin Durgotsava etc. Seeing these pandals, you will be convinced that Kolkata is not considered as the cultural capital of the country.
The decoration of the pandals in itself is a living proof of the common culture of Bengal. All the pandals seem as if we have reached some other city. What's the delay then? To be a part of this folk festival, keep moving from one pandal to another.
Kolkata has two faces. One Kolkata is the carrier of the ancient traditions of Bengal, while the other Kolkata is the Kolkata with the impression of the British. In which the memories of the colonial era are seen.
On one hand, there are monasteries where there are ancient temples and on the other hand, there are structures like Victoria Memorial, Howrah Bridge. But the best part is that even in the midst of so many contrasts, this city is truly the City of Joy. Because happiness here is not a matter of a lot of money. You can enjoy The City of Joy Kolkata even in few coins.
Kalighat Kali Temple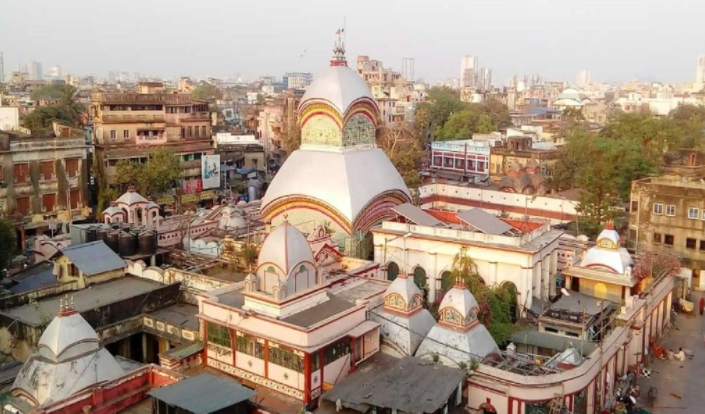 This Temple is one of the 51 Shakti Peethas in the country. This temple is dedicated to Maa Kali. It is famous all over Bengal. Furthermore, This temple built on the banks of river Hooghly is famous all over the world.
The pier adjacent to this temple is known as Kali Ghat. Once upon a time, the Ganga Ghat was completely adjacent to the temple, but now it is a little far away. Although this temple is considered to be of the seventeenth century, but the present temple is running under the protection of the Sabarna Roy Chowdhury family for the last 200 years.
Dakshineswar Kali Temple
Dakshineshwar Kali Temple is a grand temple of Kali Maa built on the eastern bank of the Ganges. To see this temple, you have to cross the entire Kolkata. If you have time, do this journey like the local Kolkata people do. Go for some distance by bus then proceed by big steamer running on Hooghly river and finally cover some distance by tram. In this journey you will enjoy the whole of Kolkata.
This temple was built by Rani Rashmoni in 1855. There is also a ghat adjacent to the temple where people come for holy bath. This temple has great recognition in the whole of Bengal.
There are also 12 pagodas in the courtyard of the temple. And also a big lake adjacent to the temple. In addition, there is a Radha Krishna temple here.
Best Travel tips and free guide
Vellur Math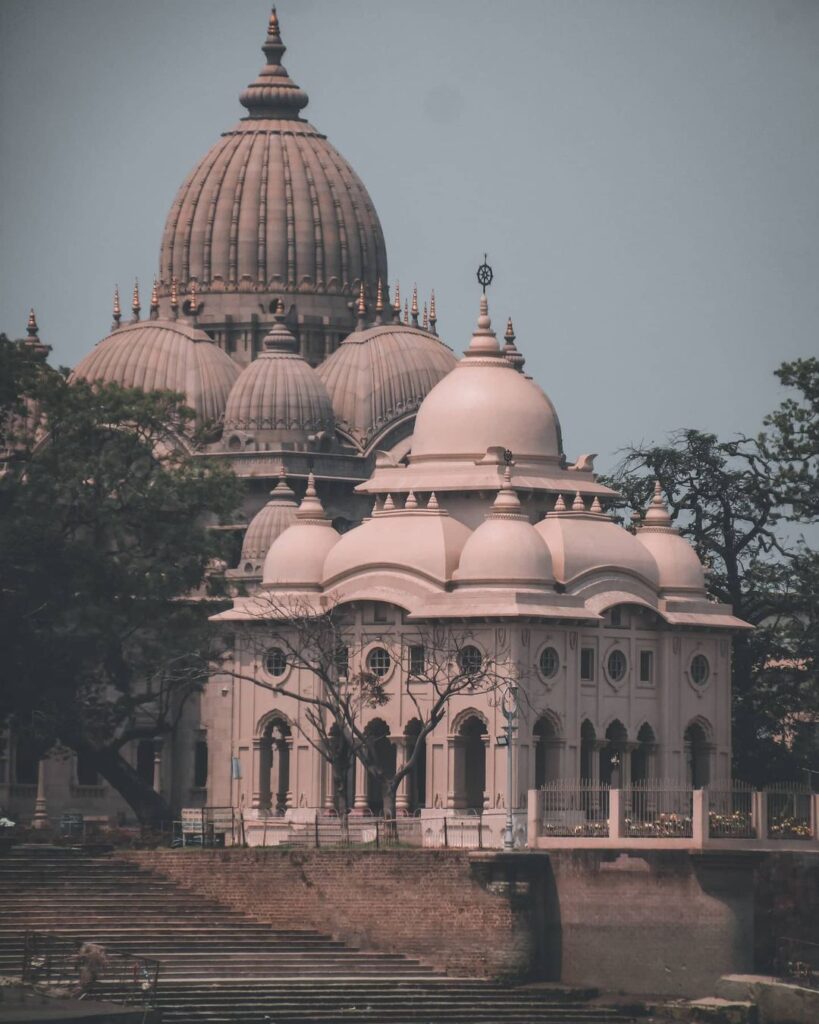 Vallur Math is also present near Dakshineshwar Kali Temple. The best way to reach this monastery is to reach Vellore monastery by boat from the ghat of Dakshineshwar Kali temple. You can enjoy boating on the wide river Hooghly for just Rs.
Vallur Math is also known as Ramakrishna Math. Which is related to the worldwide Ramakrishna Mission. Vallur Math stands on 40 acres of land on the western ghat of Hooghly river.
This monastery was established in 1899. The monastery now has two parts, an old building and a new building. Swami Vivekananda's room is present in the ancient monastery. This is the place where Swami Vivekananda took Mahasamadhi on July 4, 1902.
Swami Vivekananda's Samadhi has also been built in this Math. The monastery is open for a few hours in the morning and a few hours in the evening. Don't close in the afternoon. This Math was founded by Ramakrishna Paramahansa. This monastery is also the headquarters of Ramakrishna Mission.
Victoria Memorial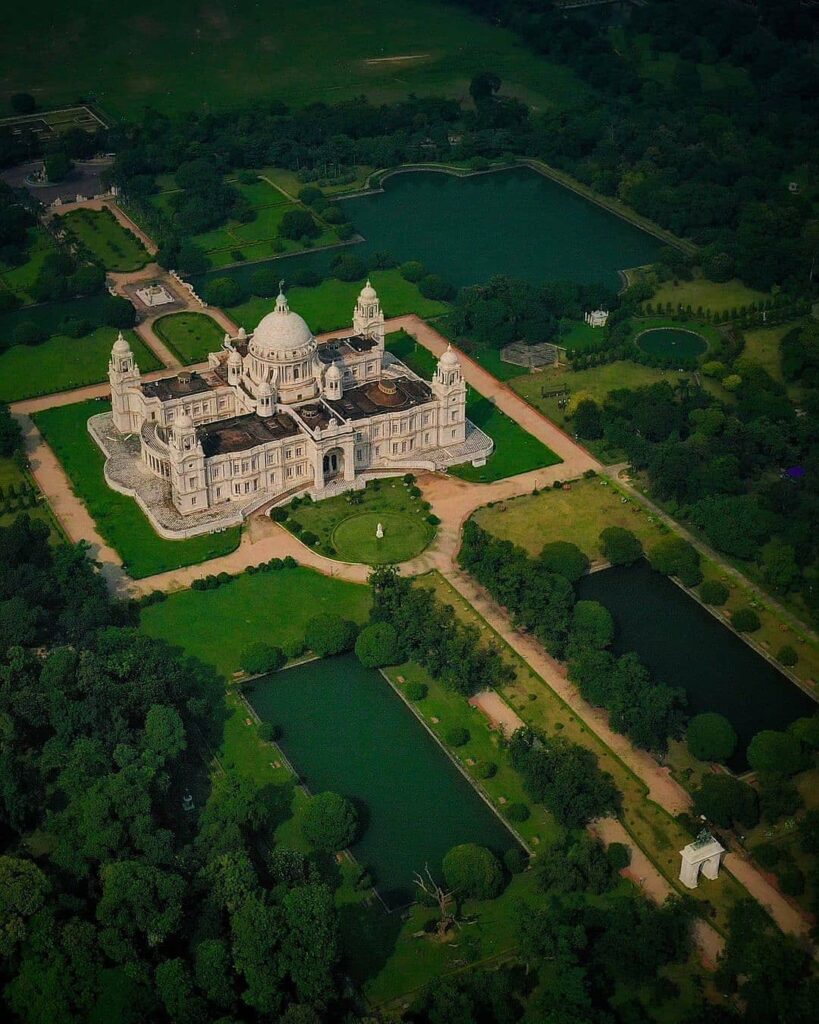 The name of the white marble building that comes to mind after taking the name of Kolkata is Victoria Memorial. Construction of this building in the style of Indo-Ceresinic Revival architecture began in 1910.
Lord Curzon, Viceroy of British India, envisioned the construction of this monument on Queen's Way in memory of the late Queen Victoria. The construction of this great monument at that time cost one crore, five lakh rupees. This building of national importance has a collection of 28,394 art objects and 3,900 color paintings.
The architect who built this great structure was William Emerson. Architect William built many great structures in the country. These include the legendary buildings like Crawford Market in Bombay and All Saints Cathedral in Allahabad. The structure was dedicated to Queen Victoria of Great Britain.
Today it is the main philosophical site of Kolkata and also has a museum. This building is maintained by the Ministry of Culture. You can also book tickets online before coming here. The place is open daily from 10 a.m. to 6 p.m., except Mondays and national holidays. To put four moons in this structure, beautiful gardens spread over 57 acres have been created around it.
There is a bronze statue of Queen Victoria near the main building in the Victoria Memorial. Here the Queen is shown sitting on the throne in the costume of Star of India. There are also monuments of many other great personalities like the monument of Emperor Edward VII, the marble statue of Lord Curzon, the Governor-General of India Lord Bentick, Lord Ripon and the statue of Sir Rajendranath Mukherjee, the leading industrialist of Bengal. An estimated 20 lakh visitors visit this place every year.
There are many galleries, including the Western Picture Gallery, a unique collection of Western-style paintings by many great painters. From the major rulers of the colonial period to the kings and rulers of India, as well as the Western style paintings present here, various themes and color mediums have been used. Tilly Kettle, Johann Joffani's paintings and William Hodges and Daniels' landscapes are of particular importance in the recent Victoria Memorial Collection of priceless paintings.
A gallery here is entirely dedicated to rare oil paintings made by Indian painters. From Rajput and Mughal style miniatures to modern Indian painters like Nandlal Bose, Avaniendranath Tagore, Gaganendranath Tagore, the Memorial has a very good collection of color paintings.
Rare photos
The Victoria Memorial Recent Collection contains many rare photographs of Bourne and Shepherd. Through these pictures you can feel the time well. In this museum, there are many sections of manuscripts from various Buddhist texts to Sanskrit texts.
Howrah Bridge – Kolkata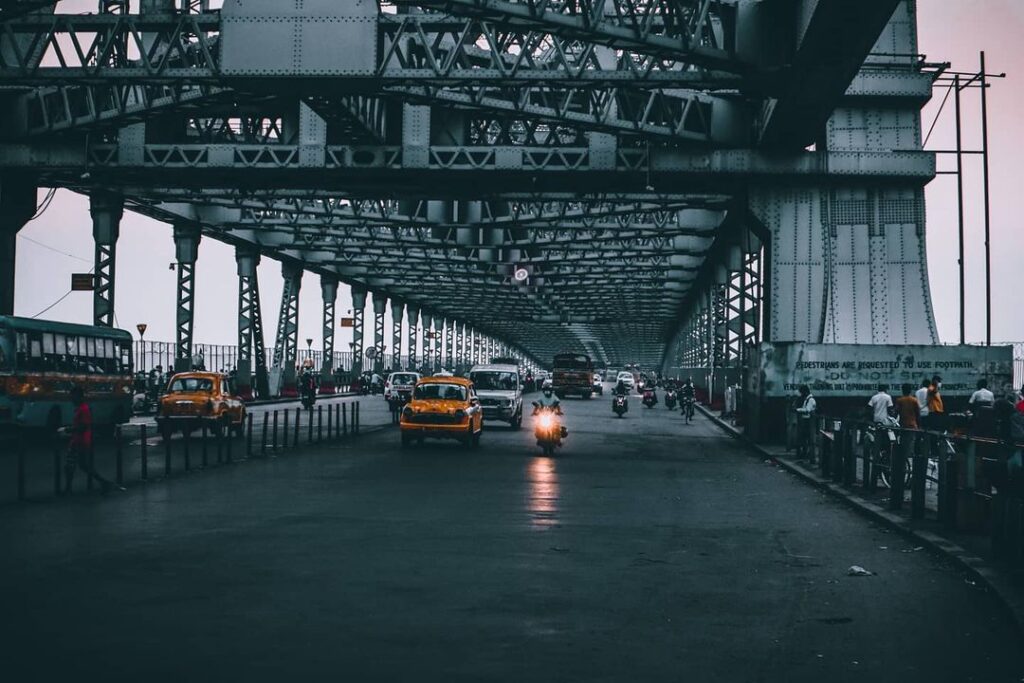 Kolkata's identity Howrah Bridge was built on the Hooghly River 75 years ago today to connect the two cities Kolkata and Howrah. In 1965, it was renamed Rabindra Setu after the famous poet Rabindranath Tagore, but even today people like to call it Howrah Bridge.
You will be surprised to know that this is a bridge in which nut bolts are not installed anywhere. This bridge is one of the 6 longest suspension bridges in the world. The bridge was completed in 1942 and opened to the public in February 1943. This bridge is 705 meters long and 30 meters wide. An estimated 80,000 vehicles and 1 million pedestrians pass over this huge bridge every day.
Malik Ghat Flower Market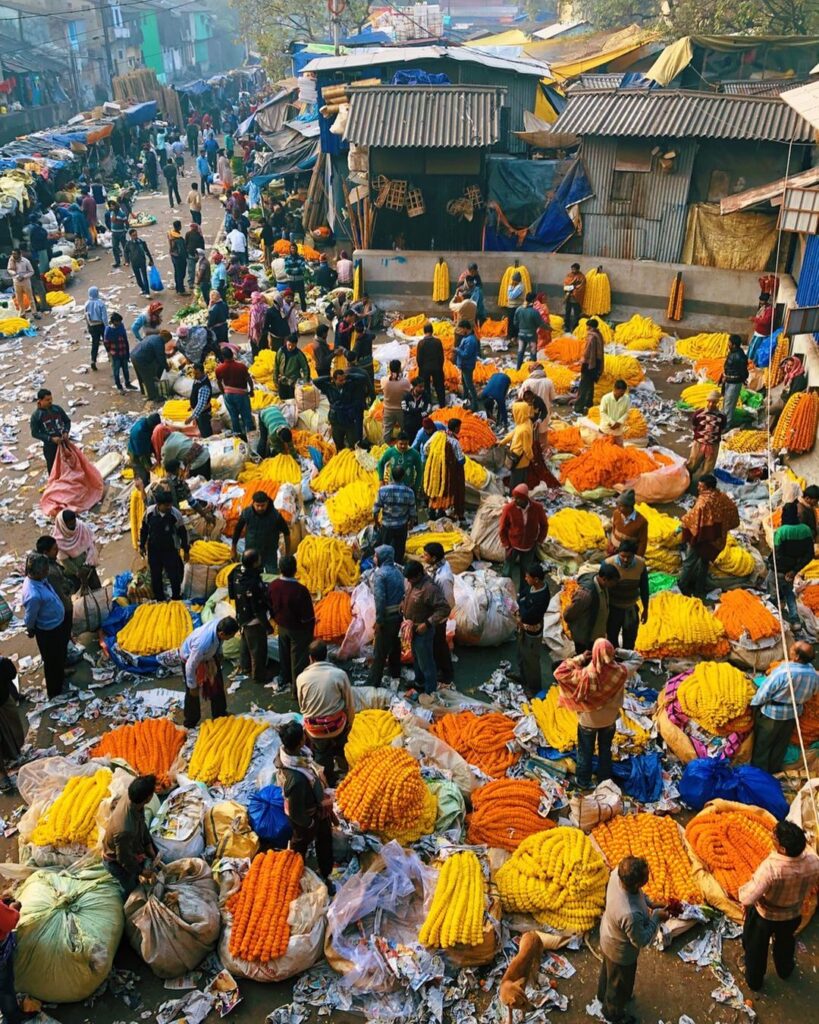 Another philosophical site just below the Howrah Bridge is the Malik Ghat Flower Market. If you go in the morning, you will see the bustle of this market. All kinds of flowers are sold here. Its view from Howrah Bridge is very beautiful.
Thakur Badi
How can this be when it comes to Kolkata and not Rabindranath Tagore. So go to Jorsanko Thakur Bari to see the house of Mr. Rabindranath Tagore's ancestors. This red building was built in 1784.
Today it is a museum also known as Rabindra Bharti Museum. It has 3 museums. Rabindranath Tagore breathed his last here. This is a beautiful mansion. Coming here, you will remember the past of the rich landlords of Bengal. It costs Rs 10 to get here. Taking photos inside is considered.
Marble Palace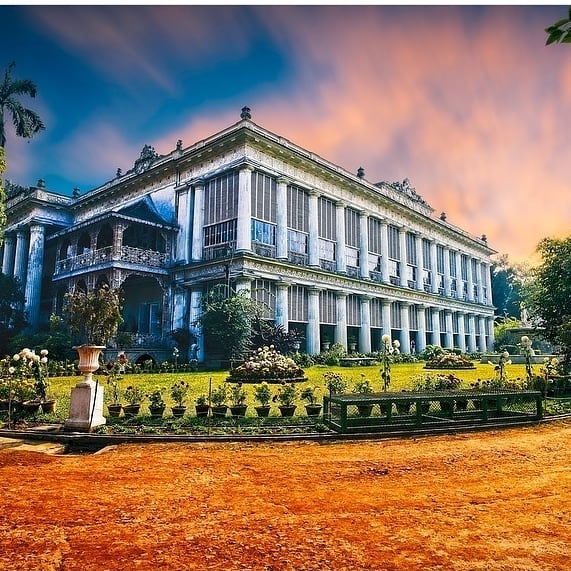 There is another philosophical site on Muktaram Babu Street near Thakur Bari called Marble Palace. This magnificent 19th century mansion in North Kolkata is reminiscent of the past of Kolkata. Visit here before 4 p.m. The palace has a collection of Western sculptures, Victorian furniture, beautiful paintings by Indian and European painters.
Try to go by hand rickshaw from Thakur Bari to Marble Palace. It is a short distance and with this excuse, you will get a chance to face another heritage of Kolkata.
St. Paul's Cathedral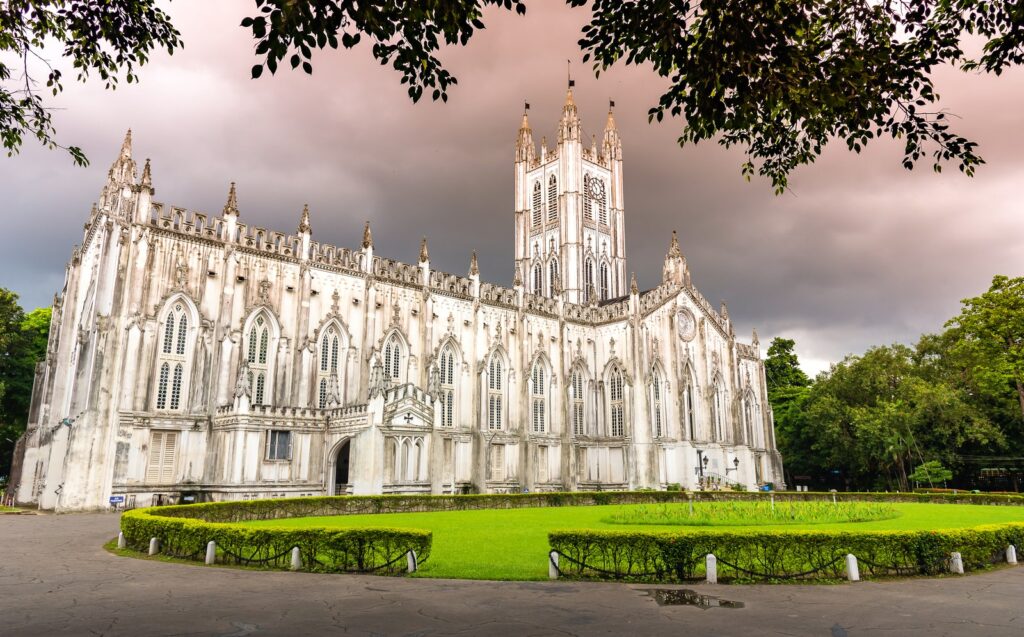 St. Paul's Cathedral is famous for its grand white Gothic architecture. This church comes under the North Indian Church. St. Paul's Cathedral is located on Cathedral Road, close to Birla Planetarium. This church was completed in 1847. It is said that this church is the largest Episcopal church in Asia. The nearest metro station to reach here is Maidan Metro Station.
Prinsep Ghat
At a short distance from the Victoria Memorial is another beautiful structure adorned with white pillars, Prinsep Ghat. It was built on the banks of the Hooghly River in 1843 in the memory of Anglo-Indian scholar James Prinsep.
Today there is a beautiful garden and ghat is present here. If you want to do traditional boating, then definitely come here in the evening. From here, the Vivekanandan Setu, which shines in the night, looks very beautiful.
Indian Museum
The National Museum was established in 1814 by the Asian Society of Bengal on Park Street. It is the largest museum in the country. It takes at least half a day to visit this museum calmly.
There are many galleries in this museum-like Gandhara Gallery, Bronze Gallery, Coins Gallery, Textiles, Paintings, Masks, Birds, Decorative Art, Egypt, Fossils, Skeletons, Mummies, Paintings, etc. The main attraction of the Egypt Gallery here is the 4,000-year-old Egyptian mummy. People come from far and wide to see whom.
Kolkata Tram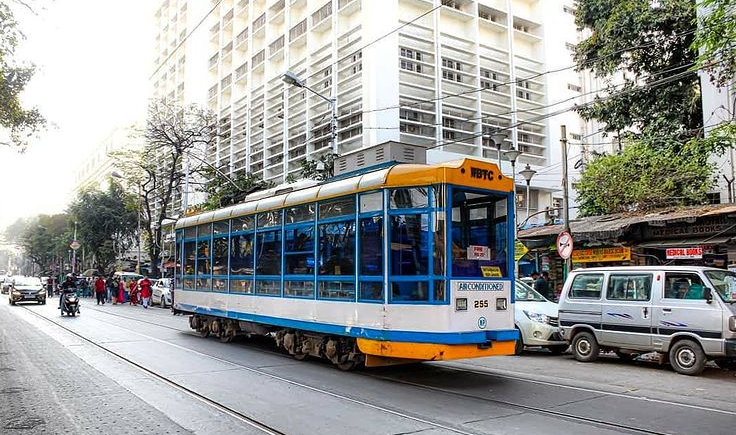 Kolkata Tram is also known as Asia's oldest transport. It started on March 27, 1902. The first tram ran between Sealdah and Armenian Ghat Street. This was the time when the tram was pulled by horses. Horse-drawn trams were specially imported from London. It was inaugurated by Lord Rippon.
Park Street – kolkata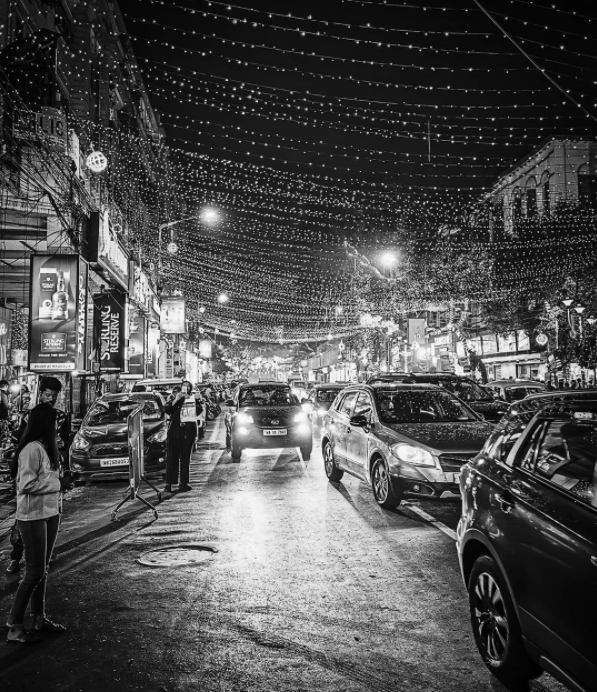 Park Street is the pride of Kolkata. Big hotels, restaurants, markets, etc. are considered the identity of Street. This place is famous for shopping. People like to come here in the evening. This place is also known for its nightlife. The famous Moline Roush is located here.
Shopping
kolkata Newmarket
New Market is located on Mirza Ghalib Street in Kolkata. It is a shopping complex where you can buy a wide variety of clothes, shoes and other items. There is always a lot of activity in New Market. The street food here is also very famous.
Dakshinapan Shopping Complex is great for buying handicraft items. Outside this complex also people set up a market on the footpath. Bada Bazaar is an ancient marketplace in Kolkata. Which you can compare with Chandni Chowk in Delhi. Gariahat Market is located in South Kolkata. In this market, you can buy handicrafts, textiles, and other items of Bengal at reasonable prices.
Famous Food of Kolkata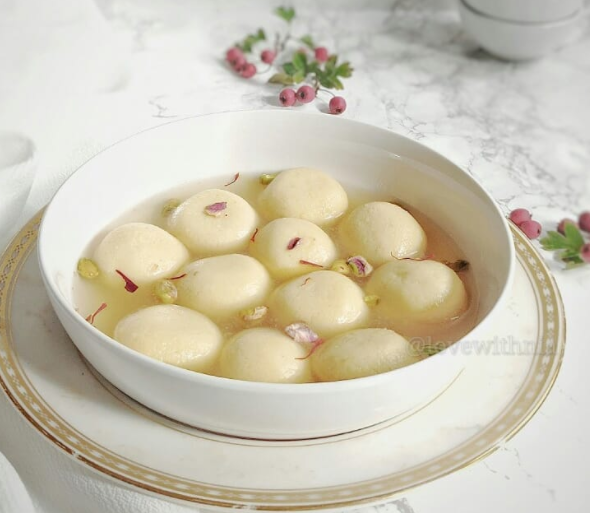 It is not possible to talk about Kolkata and not to mention the food here. Street food of Kolkata is considered to be the best street food of India. If you go to Kolkata, your trip will be considered incomplete without trying these street foods. Puchka, which we call Panipuri or Golgappa, is unique here.
A complete range of Kathi Rolls will be found in New Market. Be sure to try them. There is a big custom of fried snacks called Talebhaja. If you want to enjoy fish fry, there is a shop near Golpark 5-Point Crossing that sells delicious fried fish. And if you want to taste East Bengal ie Bangladeshi cuisine, then definitely do visit Kasturi Restaurant on Mushtaq Ahmed Street, New Market Area. Here you will find authentic Bengali food like Bhetki Baked Fish, Kochu Patta Chingri Bhaappa, Prawn Curry, Prawn Malai Curry, Bhetki Paturi (steamed fish wrapped in banana leaves), etc. When visiting Prinsep Ghat or Millennium Park, definitely eat Jhalmuri there.
The famous Rasgulla of Kolkata can be eaten anywhere in the whole city, but the matter of Balaram Malik and Radharam Malik of Bhawanipur is something else. The rasmalai here, after eating Rajbhog, your soul will get saturated. In this season you will get to taste rasgullas with jaggery syrup. Which dissolve in the mouth. Its caramel flavor is very unique.
Nearby Beautiful Places – Kolkata
Mandarmani Beach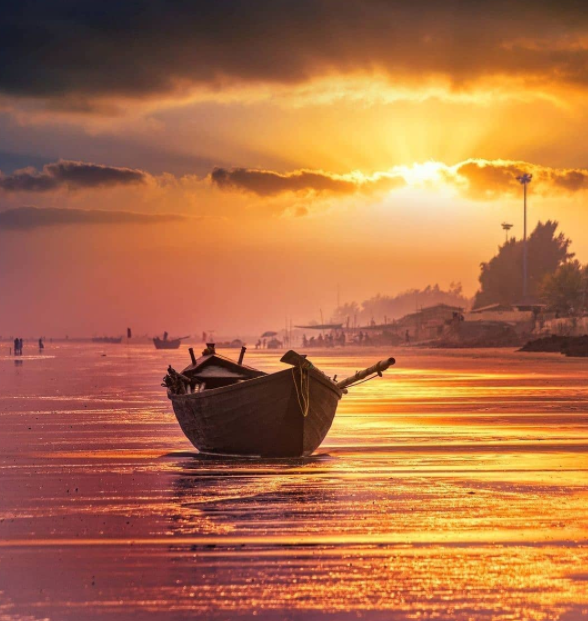 Mandarmani is a beach located in the Bay of Bengal near Kolkata. Its distance from Kolkata is 171 km. The road to reach here is very beautiful. Traveling through the lush green countryside of Bengal, you reach Mandarmani in 4-5 hours. This beach is very clean. You can also enjoy water sports here. Red-colored crabs are seen on this beach. There are several beach resorts where one can stay. You can also drive in your own car at Beach.
Digha Beach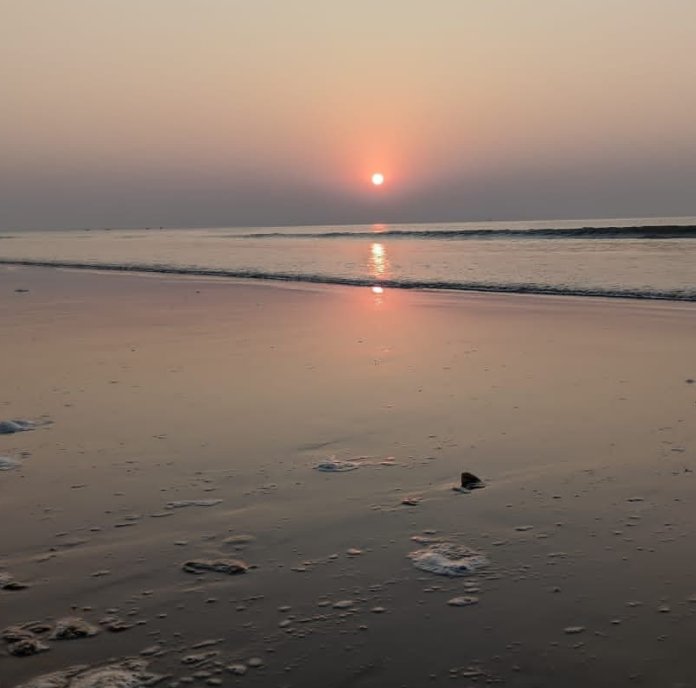 Digha Beach is located at a distance of 30 km from Mandarmani. This beach is also known for its clean water. People come here for picnics on weekends. In the meantime, you can enjoy fresh seafood. The fishermen here also hold seafood stalls. Adventure sports can be enjoyed here. Sunrise looks very beautiful from here. You can also reach Digha by train.
Sundarban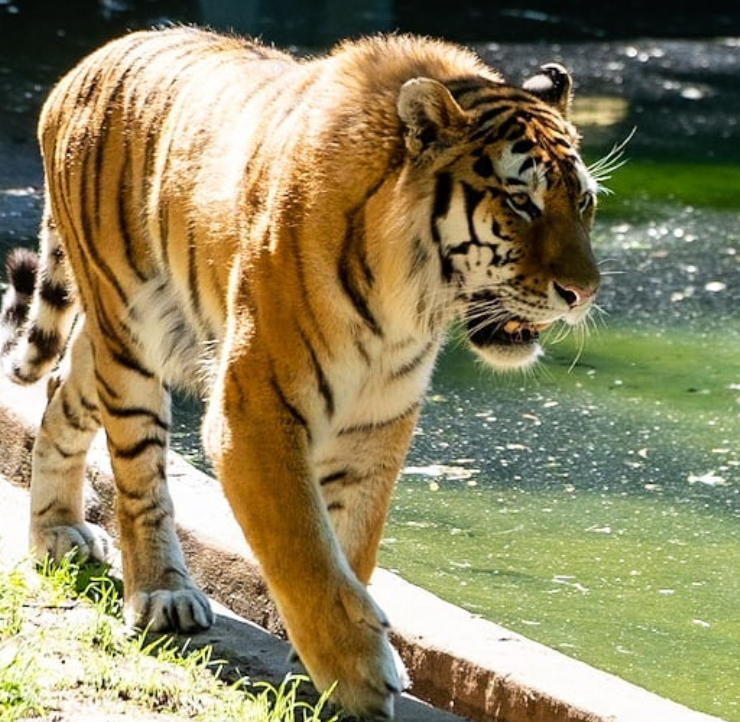 Sunderbans is the home of the Royal Bengal Tigers. Its name Sundarban was named after Sundari, a tree found in abundance here. Located at a distance of 109 km from Kolkata, the Sundarbans has been included in the UNESCO World Heritage Site in 1987. It is said that around 400 Royal Bengal Tigers and 30,000 Spotted Deer live in the Sundarbans. The Sundarbans is so big that it extends from India to Bangladesh.
Sundarbans is considered to be the largest mangrove forest in the world. Which is spread over 4000 square kilometers. 102 islands are inhabited inside it. Out of which people live on 54 islands, the rest are dense forests. Boating is the best way to see the Sundarbans. You can enjoy a 2-hour boat ride by spending just 10 rupees.
It is said that the Sundarbans is home to the largest number of Bengal tigers in the world. You can see some very unique exploits of nature in the Sundarbans. Here comes twice a day low and high tide. Some such phytoplankton is found here which glow with the reflection of water even in the dark night. So you can also enjoy Night Safari here.
So friends this was Amazing Kolkata – the city of joy..! I hope you must have come to know a lot from this information. And after knowing this you will definitely want to go to Kolkata. In fact, I would personally recommend to you that you must visit Kolkata once in your life. And definitely tell in the comments which location did you like the most.
Follow Us on Social Media For More Interesting Updates
Instagram: https://www.instagram.com/xplorely/
Twitter: https://twitter.com/xplorely
Facebook: https://www.facebook.com/xplorely/