For movie fans that gives a voice to people who don't usually have it on screen.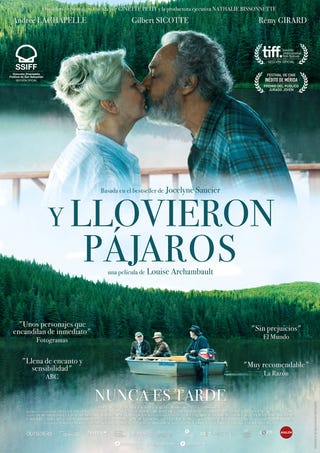 Directed by: Louise Archambault Cast: Kenneth Welsh, Andrée Lachapelle, Gilbert Sicotte, Rémy Girard, Ève Landry, Éric Robidoux, Louise Portal Original title: Il pleuvait des oiseaux
Country: Canada Year: 2019 Release date: 03-05-2021 Genre: Drama Script: Louise Archambault Photography: Mathieu Laverdière Synopsis:This is the story of three old men who have chosen to withdraw from the world and live in the forests of Canada. As a great fire threatens the region, someone comes to his hiding place: a young photographer looking for a certain Boychuck. And it is not the only one. Soon after, a woman in her 80s appears like a light breeze that will upset their lives. As they try to understand Boychuck's history through his paintings, something extraordinary will emerge between them all.
☆☆☆☆☆ 3/5
The best: his description of the characters and spaces.
The worst: it is somewhat washed out when it poses conflicts.
Based on the novel by Jocelyne Saucier, Canadian filmmaker Louise Archambault (Gabrielle) composes a film in which the secondary characters become protagonists and the stories that often go unnoticed, in the only stories that matter. And it rained birds makes exceptional the quiet and resigned routine of a group of old men, practically hermits, who live in a forest in Quebec.
The director leisurely explores the universe of the characters and the decisions that have led them to isolate themselves. It is there, in his drawing of these people, how they face life and death, their sense of happiness and their way of relating to the physical landscape (the forest as something alive and decisive) where the film makes sense. Archambault accurately describes the characters and choreographs their physical and emotional movements beautifully. And it rained birds, however, it is more inconsistent and washed-out when it abandons the distanced portrait to propose conflicts and solutions.
If you know more about AND IT RAINED BIRDS and want to tell, please let us know. Thank you ..!
It may interest you