Top 16 Beer Spa that people have been bathing in Beer for hundreds of years it's all about the hops. with yeasts and other natural ingredients, Hops will open up your pores and contribute to overall vitality and many more benefits are there.
Top 16 Beer Spa: people also have high doses of active enzymes and vitamin B that is good for the skin, hops is also ease muscle tension, detox the body and improve blood circulation.
1st Beer Spa Carlsbad – Top 16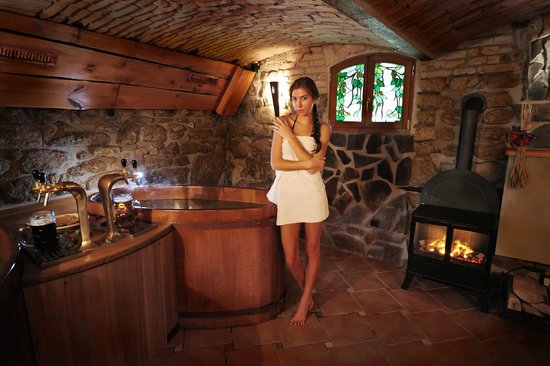 "1st Beer Spa Carlsbad" The widest assortment of beer cosmetics in 1st beer spa Carlsbad. You can buy trusted products from beer spa professionals and try 1st beer spa Carlsbad unique Spa Beerland cosmetic line. Also beer cosmetics you can buy at our branches. [ 6VCJ+WP Karlovy Vary, Czechia ]
2. Hop Spa – Beer Bath
In "Hop Spa" – Sisters, Oregon the cedar soak tubs are perfect for one person so you can just relax and enjoy, also listening to the music of their choice. As well as eating, and you can get a Bavarian pretzel and Deschutes Brewery Beer too. [ 7CRW+FM Sisters, Oregon, United States ]
7. Wellness Hotel Bahenec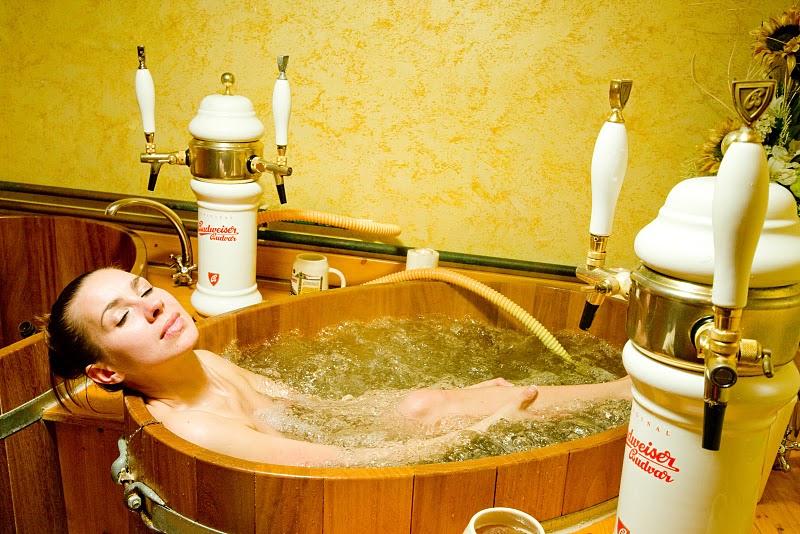 In "Wellness Hotel Bahenec" – Pisek, Czech Republic you have the opportunity to enjoy a beer while soaking in their own wooden tub. Also, you can have rest on a bed of oat straw for a relaxation sesh in the sauna and the beds have canopies on them. [ HRJF+9X Písek, Czechia ]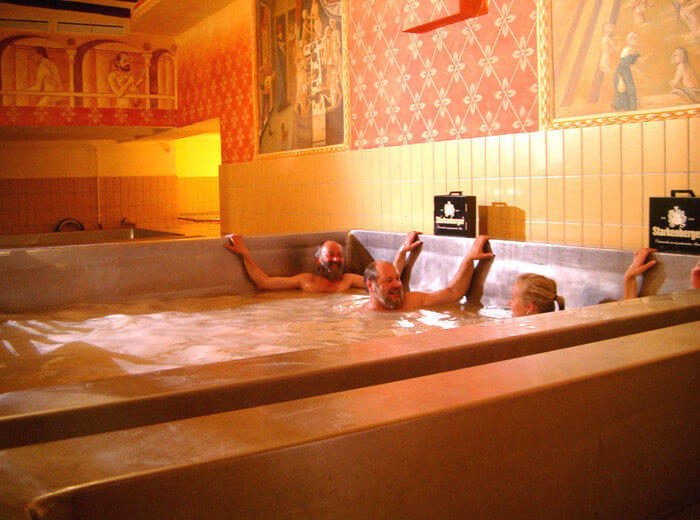 The "Starkenberger Brewery" – Tarrenz, Austria is inside a castle that really makes you feel like a home. Because it does not have a tub but it has a Beer Pool which is filled up by 300 liters of beers. [ 7Q63+JP Tarrenz, Austria ]
9. Landhotel Moorhoff
In "Landhotel Moorhoff" – Franking, Austria the beer extract has malt and hops with water and organic ingredients also You can drink beer on tap here next to your own barrel filled with the golden liquid. [ 3W9P+XV Dorfibm, Austria ]
10. Bernard Beer Spa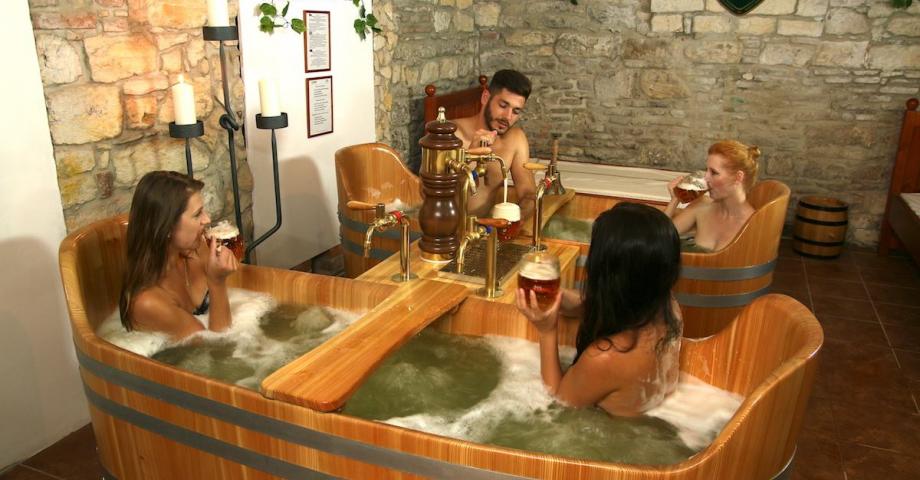 The "Bernard Beer Spa" has a warm bath in beer with beer taps that you can drink it or a whirlpool option. As well as you will get an unlimited supply of the stuff more. Which is enough to relax in warm and in a delicious beer. [ 3CQF+5M Prague, Czechia ]
11. Purkmistr Brewery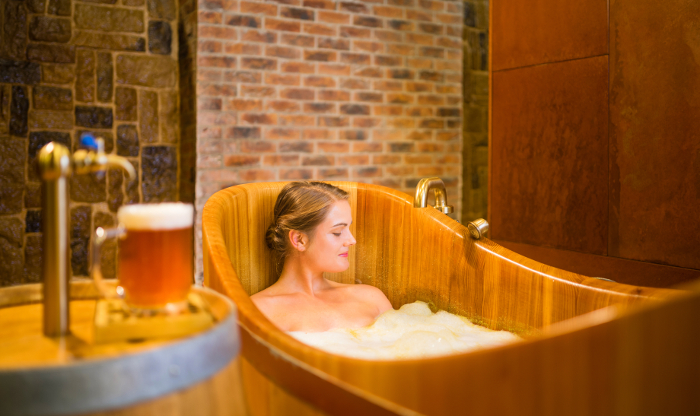 In "Purkmistr Brewery" you can sit in wooden barrels of Purkmister while tapping their own beer to have some sip. The brewery also offers beer oil massages, beer peel with real malt, and beer facial masks. [ MCX7+FJ Pilsen 8, Czechia ]
12. Bjorbodin SPA & Restaurant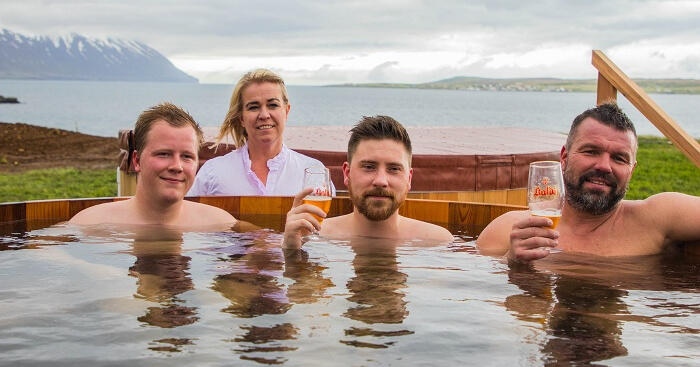 13. Chodovar Brewery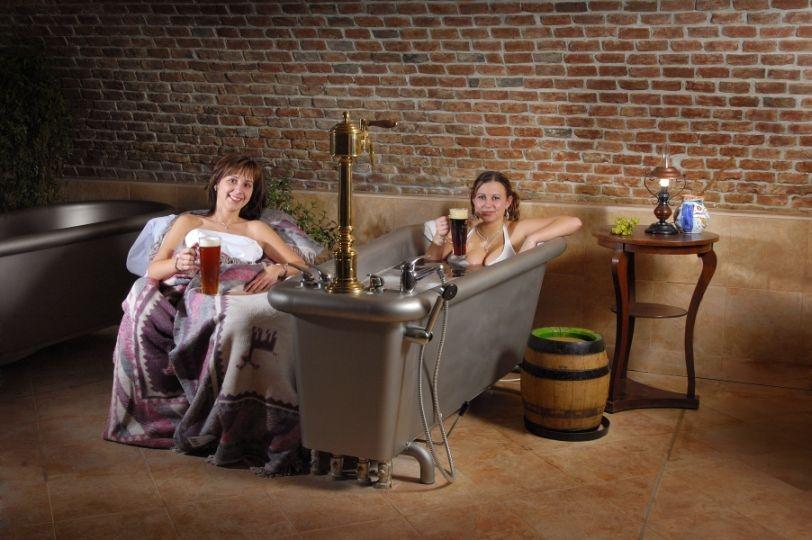 In "Chodovar Brewery" you can sit in a tub of warm mineral water, active beer yeast, dark bath beer, crushed herbs, and hop draft. Also, you can pour a glass of beer to have it. After your 20-minute bath, the brewery also offers a hop bath that has hops and mineral water that literally cover your whole body. [ VPVH+84 Chodová Planá, Czechia ]
14. Thermal Beer Spa
In "Thermal Beer Spa" – Budapest, Hungary the wooden tubs are really big enough for two people. You can sit in a wooden tub which has natural beer ingredients that are added to the water with an herbal scent. Also, have a tap to have a fresh beer and a snack"Hungarian Appetizers" too. [ G38J+9V Budapest, Hungary ]
15. Original Beer Spa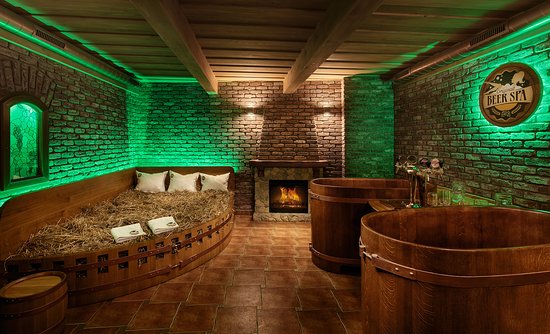 16. Misugi Resort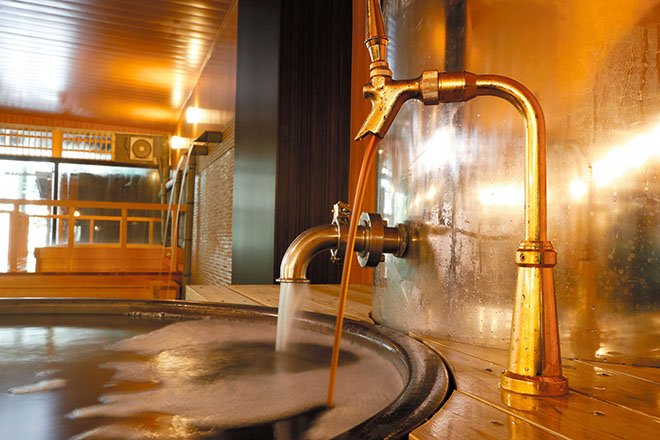 The "Misugi Resort" water from the Hinotani Onsen, live yeast has enzymes and carbonic acid, and a hot spring inside the resort, along with craft beer to clean and soften the skin. [ H769+8R Tsu, Mie, Japan ]
image sources by Travel-triangle, Drinks-feed, Pinterest, Aquainfo, Byebye-americanpie.blogspot, booking.com, Pilsen.
You can contact us to get more information about this page or tell us if we are missing something, I will appreciate it. i hope you like our page 🙂 Thank you for your visit.