Amazon Prime Video has released this adaptation of Tom Clancy's novel, where we meet a man with a thirst for revenge.
Michael B. Jordan plays Tom Clancy's hero in ' No Regrets ', released on Amazon Prime Video.
The best action movies ever.
Michael B. Jordan is no stranger to franchises after starring in 'Creed: The Legend of Rocky', 'Black Panther' and the much-criticized 'Fantastic Four' reboot. Hopefully he has more luck with the beginning of a new franchise with 'No Regrets', or if you prefer the longer name, ' No Regrets of Tom Clancy ', in which he offers us a new version of John Clark for the small screen .
Formerly played by actors like Willem Dafoe and Liev Schreiber in the Jack Ryan films, John Clark is a key character in Clancy's 'Ryanverse'. However, when we meet him in 'No Regrets', he is just an elite Marine named John Kelly who has just retired and is with his wife about to give birth to their first daughter. The truth is, we'd see Jordan in anything, but it won't come as a surprise to learn that the movie isn't about the dangers of parenthood and diaper changes. Instead, Kelly seeks revenge when a squad of Russian soldiers kill his wife and fetus in retaliation for a top-secret operation . They also tried to kill him, but they failed, and they are about to have a lot of regret.
Teaming up with partner Karen Greer ( Jodie Turner-Smith ) and shady CIA agent Robert Ritter ( Jamie Bell ), Kelly embarks on a mission to avenge her family's death and no one will stand in her way.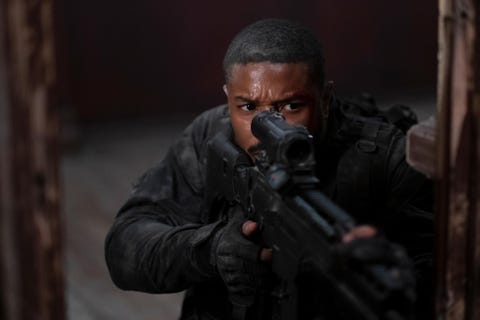 Both the trailer and the plot make 'No Regrets' look like another 'man on a revenge mission' action movie in the style of 'Kidnapped' or 'John Wick'. However, those hoping to see Jordan on a rampage will be disappointed as the film is closer to the '90s spy and conspiracy thrillers . Although it is only loosely based on the Clancy book of the same name, it definitely seems like it fits into the same universe as Jack Ryan. Yes, John Kelly is on a mission of revenge, but the stakes are higher with shadow government agents and a global conspiracy . That the main villains are Russians only adds to the feeling that we are returning to the past.
The problem with 'No Regrets' is that the plot can't help but feel stale as a result. There are better conspiracy thrillers with more twisted and captivating plots, while this one just plays out for the most part as you'd expect. If you think someone is bad, they will surely be bad. It doesn't help that there's an unnecessary use of " fridging " to jump-start John Kelly's mission, with Lauren London given the thankless role of his wife having no purpose other than dying. It's a lazy way to add some emotion and depth to Kelly's character, who is otherwise a bit obtuse, and since the movie isn't just about a revenge mission, it sticks out even more.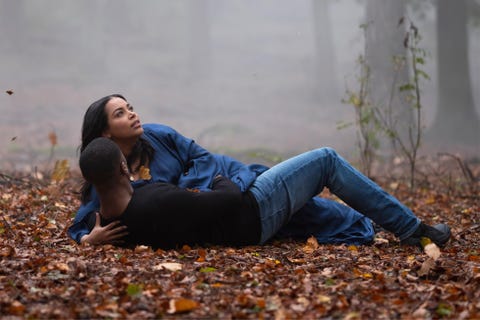 That said, while the plot is a flop, 'No Regrets' absolutely delivers on the action front with a number of well-organized and engaging pieces. The highlight is a tense sniper sequence where Kelly and her team are pinned down, but there's also an excellent prison fight and a brutal and grueling battle for survival very close to the end.
Anyone who has seen 'Sicario: Day of the Soldier' ​​by director Stefano Sollima , which was also written by Taylor Sheridan from 'No Regrets', won't be surprised to learn that action is the film's great forte. It's a shame it can't be paired with a stronger script or even some well-developed characters, but those coming for an adrenaline rush won't be disappointed .
It helps that Sollima has an elegant cast to fall back on when the plot fails. Jordan has the action skills and charisma to counter John Kelly's lack of depth , while Jodie Turner-Smith and Jamie Bell offer strong support despite being hampered by similar, one-dimensional characters.
Despite the plot flaws, there's a clever reveal at the end of the film that makes you re-evaluate what you've seen before. It brings a contemporary twist to the old-school conspiracy tone and would mean that a new viewing wouldn't be hampered by a sense of obsolescence, although it doesn't completely solve the film's problems.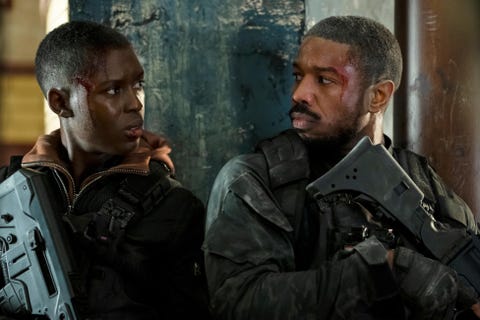 When the film was first announced in 2018, it was planned as a two-part film series, with 'Rainbow Six' following this 'No Regrets' . The move to Amazon Prime Video from a theatrical release could have hurt these plans, but it's clear from the movie that everything is set for a sequel.
Anyway, 'No regrets' offers a closure so that, if the proposed sequel does not happen, the viewer will not be frustrated by the lack of resolution. The movie is far from perfect and we hope the sequel will pay more attention to the plot, but if this is going to be the new Michael B. Jordan franchise, we are not opposed at all.
☆☆☆☆☆ 3/5
https://youtu.be/e-rw2cxFVLg
If you know more about Michael B. Jordan and want to tell, please let us know. Thank you ..!
It may interest you
Haley Bennett joins Cate Blanchett and Jack Black in 'Borderlands' adaptation(Opens in a new browser tab)
'THOR LOVE AND THUNDER': RELEASE DATE, SYNOPSIS, TRAILER AND EVERYTHING YOU NEED TO KNOW(Opens in a new browser tab)
Review of birdsong – dive into the beautiful movie(Opens in a new browser tab)
Top 10 Best Comedy Movies on Netflix(Opens in a new browser tab)